【ACCURATE 1000/6000 GRIT WHETSTONE】
Meterk 1000/6000 knife sharpening stone set. The 1000 grit side is to refine the dull edge and the 6000 grit could be used to polish the blade. The 2 kind of grit is accurate and standard. Flattening Stone keeps your whetstone knife sharpener flat all the time. As it's a water stone, no expensive honing oil is needed.
【NON-SLIP BASE FOR SAFETY】

The Meterk whetstone knife sharpener kit comes with a silicone base for holding the stone inside a non-slip bamboo base that ensures the whetstone sharpening kit is fixed in one place while sharpening. And the angle guide allows you to maintain the correct angle while sharpening.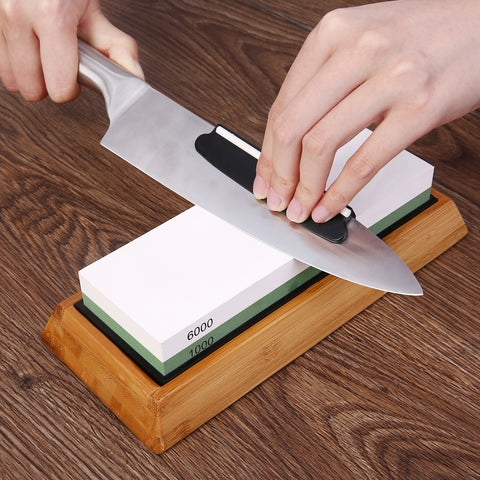 【ULTRA-PRECISE SHARPENING】
Meterk wet stone sharpening kit is totally enough to restore the sharpness of dull knives or damaged/battered blades. It guarantees high productivity, faster cutting makes food preparation easier, and the wet stone sharpening kit minimizes fatigue and reduces stress on the wrist, hands, and arms. Perfect for kitchen utensils, scissors, hunting knives or knives, blades, and razors.
【PREMIUM QUALITY WHETSTONE】
The whetstone sharpening kit is easy to assemble and use. Made from professional grade white corundum (aluminum oxide), highly durable, corrosion-resistant, and heat-resistant, handmade through 17 processes of craftsmanship to ensure quality. Knife sharpening stone offers you a longer service life. Well packaged stone sets ensure the integrity of the product when it is received.
【MULTIFUNCTIONAL KIT WITH WARRANTY】
This sharpening kit comes with premium quality grit 1000/6000 Waterstones, silicone base, bamboo base, angle guide, and flattening stone. We offer 100% service with your purchase. No matter what problem you meet, please let us know in time. Meterk knife sharpening stone makes your life better.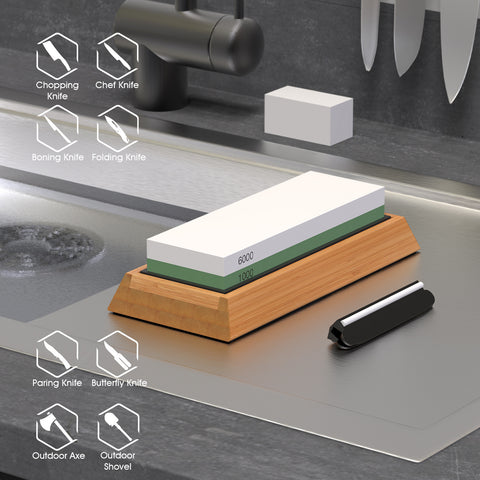 Specifications:
Material: Aluminium oxide + Bamboo
Color: white + green
Package Size: 23.4 * 10.8 * 6.6 cm / 9.2 * 4.2 * 2.3 in
Package Weight: 1080 g / 2.4 lb


Package List: 
1 * Sharpening Stone