Features:
【19 PCS File Set】
The 19 pcs set includes flat, half-round, round, and triangular 4 large files, and 14 needle files. They are flush head flat file*2/pointed flat file*2/triangular file*2/square file*2/round file*1/semicircular file1/elliptical*1/double semicircular file1 /single triangle*1/ knife type*1. The complete kinds can meet your different needs. Besides, we provide a steel brush which can help you clean the scraps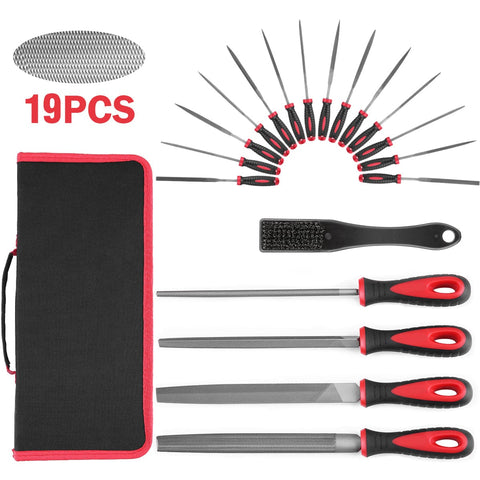 【Ergonomics Handle Design】
The ergonomic handle improves grip comfort, reduces fatigue, and improves accuracy. Threads are added to the rubber handle for the reason of increasing contact friction, to ensure that the file does not slip off during use. And the handle's inner reduces pore size to ensure a tight connection with the file's body.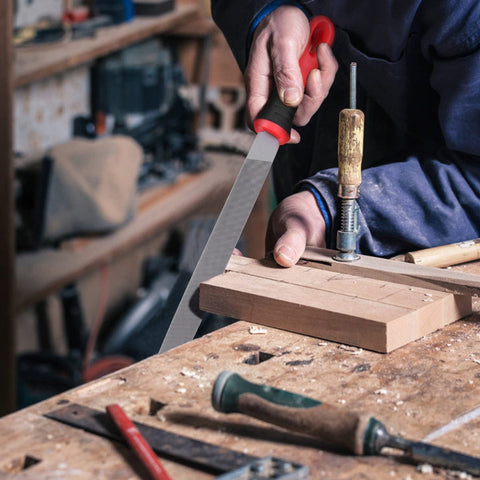 【Great Tool for DIY】
This file set can be used for refining, reshaping, removing, and scraping items. Widely applied in shaping wood, metal, jewelry, mirror, glass, tile, ceramics, leather, and plastic, even if on small surfaces and tight areas.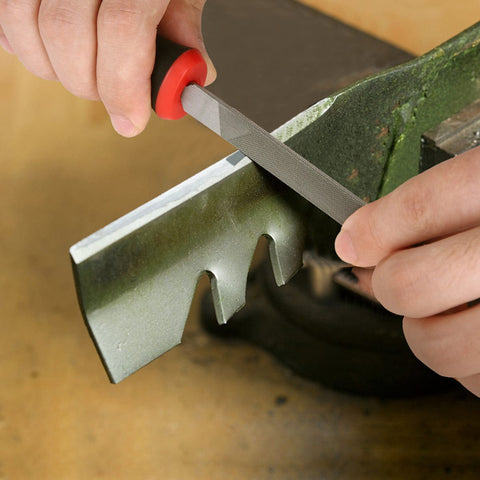 【T12 Alloy Steel Material】
4 Large files are made of T12 Alloy Steel, and the 14 needle files are made of GCR15 bearing steel, and the file body hardness reaches 63~66 HRC which makes long-lasting cutting and filing performance. The Uniform pitch of teeth and fine textures can increase the grinding effect and save more effort.

【Portable Carrying Case】
All files are in corresponding places with Elastic ring to avoid moving around and scraping, equipped with hanging rope for easy storage and carrying. Perfect for carpenters and DIY enthusiasts.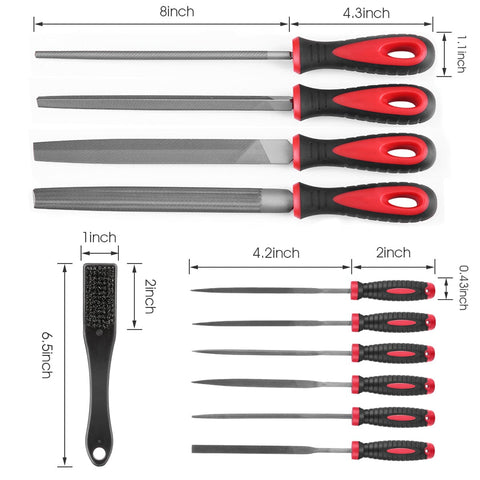 Specifications:
Brand: Meterk
Main Material: T12 carbon steel & Oxford cloth
Color: Black &Red
Package Size: 34.5 * 15 * 5cm / 13.5 * 5.9 * 1.9in
Package Weight: 1330g / 46.9oz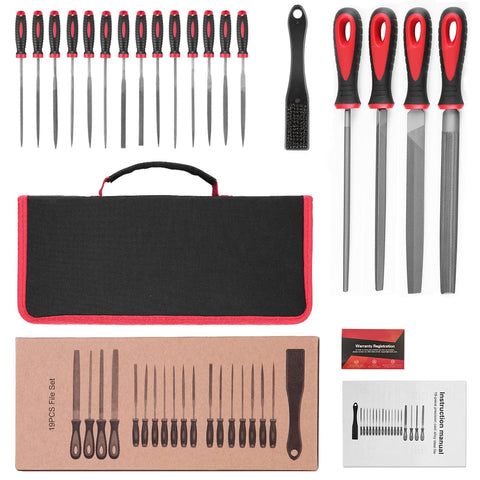 NOTE:
1 、Please don't use a new file to break the metal whose hardness exceeds 55
2、 Avoid water, oil, or other dirt
3、 When using a file, the speed should not be too fast, otherwise, it is easy to wear prematurely
4、 Always use a wire brush to remove chips in the tooth groove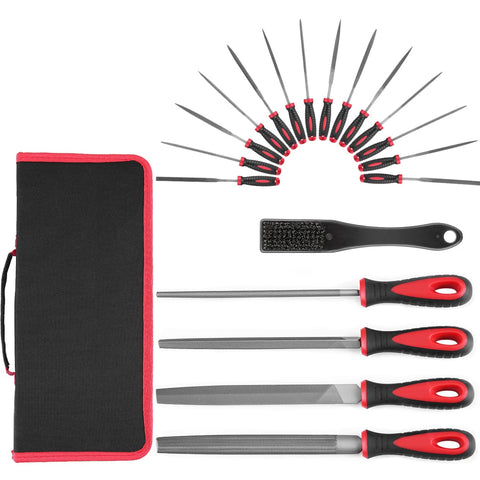 5 、Forgings and castings with hard or sticky sand must be ground on a grinder before they can be filed with a semi-sharp file
6、 Do not hit hard objects with a file, it is easy to break the file
7 、Please choose the appropriate file size, use the file correctly, and use a small file with excessive force, so as not to break it
8、 Not suitable for filing soft metal materials (such as aluminum, copper, molded plates, etc.), and non-metallic materials (such as plastic, nylon, fiber materials, etc.)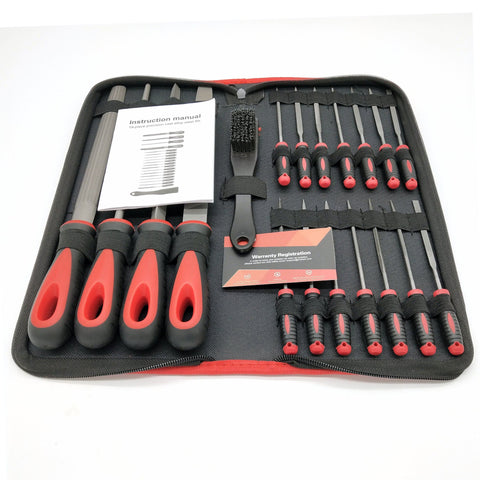 Package List
4 * Big File
14 * Small File
1 * Brush
1 * User Manual (Multilingual)